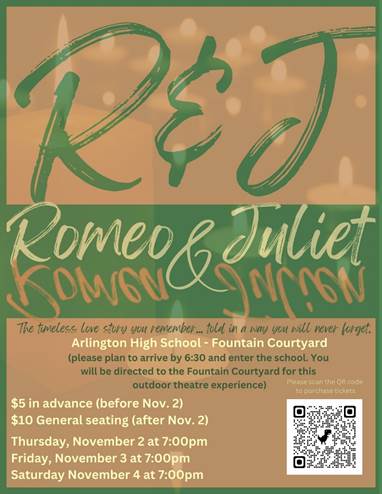 Introducing a new take on Shakespeare's classic, the AHS Theatre department will present Romeo & Juliet. The flipped script turns the tale of star-crossed lovers on its head.
"The male characters are rewritten as female and the female characters are rewritten as male," Jamie Pringle, director, said. "We have a lot of good female actors and by flipping the roles we can give them more spotlight."
The theatre students were excited about the changes and challenged by how to approach the roles.
"Our actors are speaking from a different perspective than they're used to," Pringle said.
Story continues below advertisement
Other changes include performing outside because other spaces are unavailable due to construction or other reasons.
"The stage is in the fountain courtyard," Pringle said. "There will be seats available and people in the audience will be allowed to bring blankets."
This unusual location is a challenge for both the tech students and actors.
"Being outside poses a lot of challenges," Alfredo Tamayo, tech director, said. "We are working on building the set outside which is more of a deck really and it takes a lot of time since the ground is uneven we have to make sure that everything is level.  For tech, the weather is always a factor. For lighting, it is hard to do the lights while it is sunny out so we have to wait till nighttime. For the actors it's more so projection, being loud enough so that the audience can hear you."
Even with the changes and challenges, the directors are hopeful the students will take something from this experience.
"I hope they use this as an opportunity to better understand Shakespeare's writing," Pringle said. 
Romeo & Juliet will be performed November 2-4 at 7:00 p.m. Tickets are $5.00 in advance and $10.00 at the door. Tickets can be purchased online using the QR code below.