New club aimed at promoting awareness about Africa, African cultural experiences
Looking to bring people together to explore and share African cultural experiences, Faith Hassan, senior, created the African Student Association. The Colt spoke with Hassan and sponsor Dr. Barbara Ward to find out more about the club.
The Colt: Tell me about how the club started?
Faith Hassan, senior: This ASA Club began this year at Arlington. It came up because I believe in an unprecedented time like this, getting together to explore and share cultural experiences is becoming more difficult. But with the help of this new club, we could still communicate effectively and meet new amazing people, that may have some good similarities.
TC: How did you know about the ASA?
FH: I found about ASA a few years back, from a university in Georgia (they weren't the founders but their club did give me the idea). I fell in love with it, only because the idea and the club as a whole was life changing. ASA helps bring different ethnicities and backgrounds together.
TC: What role do you take in the African Student Association?
FH: I take on the role as the president in the African Student Association, which means I am ultimately responsible for all aspects of the club.
BW: My role is more of a supervisor/facilitator role – a person who manages the time, place, and people. I facilitate as needed, answer any questions that may arise or that are directed at my attention, to offer suggestions and act as the liaison for club purchases. I work with in the background, assisting the president.
TC: What do you feel that the club will teach others about?
FH: I believe this club will inform others about worldwide depictions of Africa – war, malnutrition, poverty and disease. Also by helping spread awareness of important issues going on in 'Africa', both the past and present.
Dr. Barbara Ward, sponsor: Awareness of African culture.
TC: Tell me about the growth of the members in the club.
FH: So far, this club has been doing awesome. We have over 10 active members and Many more to come in the future. Although, it was a little challenging recruiting since most things are virtual. Our main way to recruit is social media and that has been really effective on this club.
TC: Tell me about the club's activities.
FH: In this club, we plan on doing activities such as: movie nights, discussion sessions, community service, culture showcases and more.
To learn more about the African Student Association including how to join and upcoming events, follow them @asa_ahs or join the Remind @h9kbeh.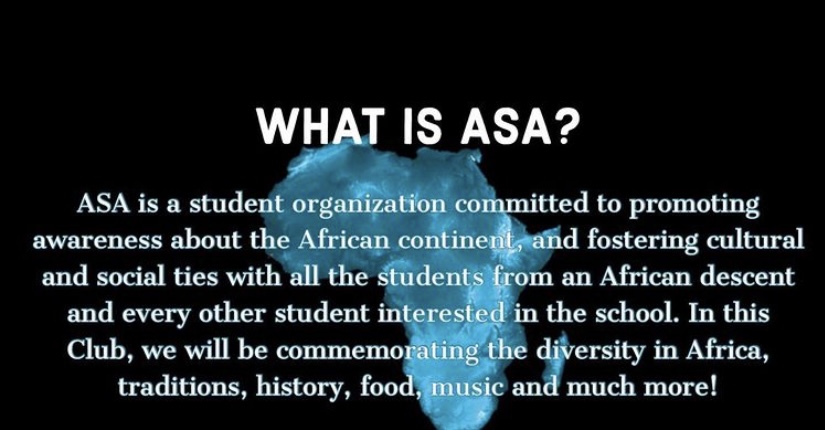 Leave a Comment