Cheerleading: an inside story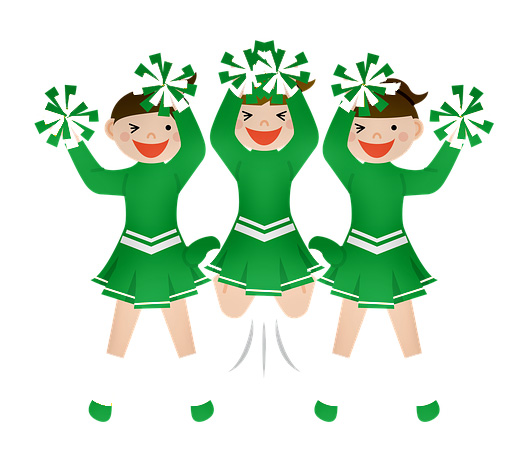 Cheerleading is not as easy as cheerleaders make it seem. It takes a lot of hard work, muscle building, and balancing, especially with competition cheerleading. It takes a lot of motivation to be able to do everything you need to do for normal cheer, competition cheer, and school. I sat down with some of my fellow cheerleaders and we talked about how we juggle it all.
Odessa Baltensperger, freshman:  The hardest part of being a cheerleader is hearing the words "cheerleading isn't a sport" when clearly it is, as well as the stunting, as fun as it is. What are some of the hardest things you find about being a cheerleader?
Alexus Carmona, freshman: Breaking the stereotype of being a cheerleader is the hardest thing about being a cheerleader.
Rachel Peikert, freshman: I think one of the hardest parts about being a cheerleader is definitely timing. When you are stunting and jumping and just cheering in general, it is important to be on time so that way it looks good. It is very hard to stay on time because everyone goes at their own pace.
OB: Sometimes it gets hard to smile so I just force myself to smile until we turn around from the crowd and then I let my face relax because I don't spend 24/7 smiling so I'm not used to it. When it gets hard to smile, how do you continue?
AC: I think back to the things that make me happy or I fake it till I make it.
RP: When it gets hard to smile, I will turn around away from everyone and then will move my mouth around and will just I guess stretch it then go back to smile again.
OB: I'm not on competition cheer but you both are so what do you do for conditioning, stunt practice, and even just chants? How is it different than normal cheer?
AC: For comp cheer, the bar is set really high for expectations on what we're supposed to do. It's different because we learn four different sections and have to perform, and the expectation is to make it into the top 10.
RP: A few things that are different are the stunts. They are a lot more complicated than the freshman cheer stunts. We do a lot of stunts in our chants and they take a lot of strength. Our chants are a little different as well. We have a lot more motions and we have to be way sharper than normal.
OB: I usually crack under pressure sometimes, so I have to make time for all of my classes by waking up early and working the entire day with very little break periods. How do you balance schoolwork and cheer activities, and even things outside of school?
AC: It's something of a challenge balancing competition, regular, and schoolwork all together. After practice any work I didn't do, I do after cheer. I even have to work on weekends to finish my work.
RP: The way I balance it all is just with a lot of dedication and coffee. I love what I do, and it is the most amazing thing ever, so I try my best to balance it all and do my best.
OB: My favorite chant is the "K-I-C-K-E-M" because it's catchy and the kick is also very fun to do. What is your favorite chant and/or stunt?
AC: My favorite stunt to do is the cradle and my favorite cheer is "We Will Succeed".
RP: My favorite chant would be "K-I-C-K-E-M" because we do a t-kick and it is really fun. My favorite stunt would be a half-up, press to extension. It is so much fun and I love stunting.
OB: I like away games because we get to take the bus and I can see what the other team's cheerleaders are like. Do you like home or away games more?
AC: Home games are my favorite.
RP: I like home games better because we get to hang out in the field house and then we are just used to the campus and we are all comfortable on our home campus.
OB: I usually have a go-to bag of nuts and crackers to bring with me to football games, do you bring snacks or just tough it out?
AC: I usually just drink water at football games but sometimes I bring snacks.
RP: I will sometimes bring snacks and other times I will not. It just depends. If I do bring a snack, it will always be fruit snacks because I love them so much.
Leave a Comment