Voters approve bond, major changes planned at AHS, across the district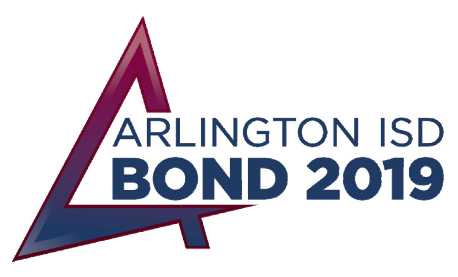 Arlington ISD gears up for another five years of construction and growth after Arlington residents approved a $966 million bond yesterday. The funds will make sweeping improvements to schools across the city.
"It's amazing," Cindy Powell, AISD CFO, said. "With the schools' new athletic fields and improvements to deteriorating schools, Arlington will be a masterpiece."
With 60,000 students and 78 campuses, Arlington stands as the 13th largest school district. As Arlington ISD grows larger every year, changes in the budget must be made. In 2014, Arlington voters approved a $663 million bond for the school district. The 2014 bond made lots of change to the district, including four new schools, a Multi-purpose Activity Center at every high school, over 3,000 security cameras, over 4,000 fine arts instruments, and the well known Dan Dipert Career and Technical Center (CTC).
"[The] 2014 bond program was advertised as a five year bond program," Powell said. "Since this [bond] is coming to an end, we are finishing up building some things and asking for a new bond."
With the 2019 bond, Arlington ISD plans to make major changes to the schools and other buildings in the district. Many schools will be renovated, others will be added onto and across the district there will be improvements made to heating and cooling, electrical, and plumbing, restrooms and overall sites. 
"The majority of this bond proposition is to rebuild aging schools and to make condition improvements at every school," Powell said.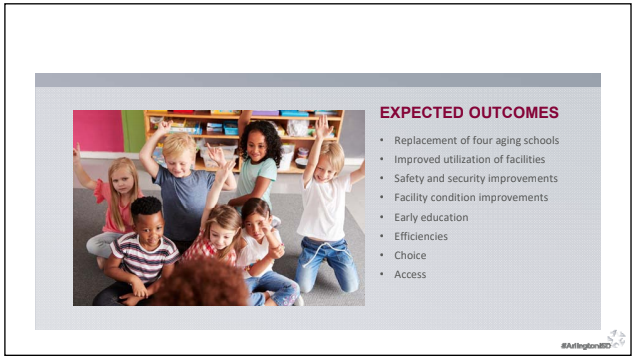 Changes to AHS
Included in the projects over the next five years is the plan to house the Fine Arts/Dual Language Academy at Arlington High. This will bring about significant renovations to the campus, possibly even additions.
"We're really lucky we're going to be the Fine Arts/Dual Language High School," Dr. Shahveer Dhalla, principal, said. "They're probably going to do a pretty substantial amount of renovation and extension to prepare for that."
Additionally, AHS will see improvements in the gyms and fields on campus, including a long-needed competitive softball field.
"Softball has been a UIL sport for 26 years and none of the AISD schools have had their own softball fields to play games on," Valerie Henry, head softball coach, said. "Having our own field will allow us to have more fans since we will be on campus, and will give the teams the feeling that they have a place of their own."
A number of the current softball players share Henry's excitement.
"It would be great not to have to go anywhere else," Mckenzie Carlin, sophomore, said. "It will be something that'll be ours."
The athletics department is not the only group that will benefit from the bond. The fine arts program will also see finishing touches to the auditorium renovations that were done with the 2014 bond, new art spaces will be created, new instruments and uniforms will be funded, and each high school band will receive its own tractor-trailer.
"Currently, whenever the band travels to football games, marching competitions, etc. we have to pull three to four 20-foot long trailers and a 26-foot long box truck, in addition to seven school buses," Michael Hejny, band director, said. "This means that our transportation department has to provide the AHS Band with 11-12 drivers for every trip that we take. With a semi-trailer, we would only require the seven bus drivers plus one truck driver. It would greatly improve the logistical nightmare that we have to fight before every football game and competition."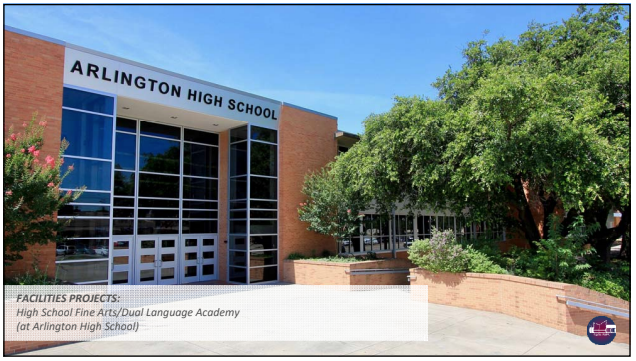 Changes Across the District
Across the district other renovations and new builds will take place. 
Berry and Thornton elementaries will be rebuilt, Roark and Knox elementaries will be closed, and Carter Junior High will be relocated and rebuilt. These changes will allow for new modern learning spaces for the students. Once these schools are reopened, AISD will rezone Berry, Blanton, Crow, Johns, Knox, Rankin, Roark and Thornton elementaries.
"Carter, Webb, Roark and Berry have all been in use for over 60 years," Powell said. "These are all schools that are in desperate need of repair." 
Gunn Junior High will be renovated to house the Fine Arts/Dual Language Academy, initial renderings from the architects include art spaces and the creation of a new front entrance of the school.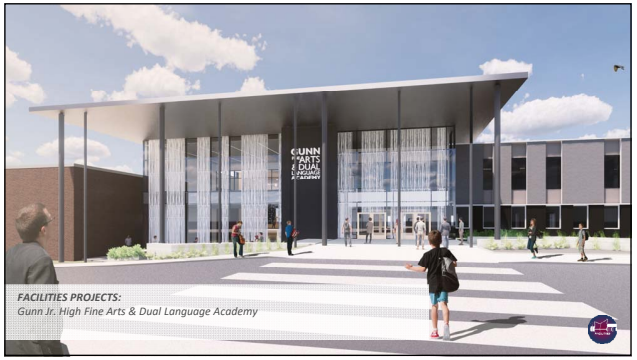 The Dan Dipert Career and Tech Center will see classroom and lab additions to meet program demand and expansion.
A third competitive athletic field will be built at Martin High School to replace the district's need to rent Maverick Stadium at UTA, and improvements will be made to Wilemon and Cravens fields.
"We picked Martin because of geography," Powell said. "That will give us three football stadiums: Cravens Field, Wilemon Field, and then the new field. In terms of geography, we will have stadiums in every area for the district."
And lastly, buses and service vehicles will be replaced and new ones purchased to allow expansion to the routes for instructional programming and safety.
Funding for the Bond
The nearly $1 billion bond is the largest the district has ever sent to voters and many were concerned about a tax hike but, administrators do not expect to increase the tax rate for the bond.
"The money is coming from taxes; however, we do not have to raise the tax rate to pay for improvements," Powell said. "We are paying down our debt very aggressively so we can improve."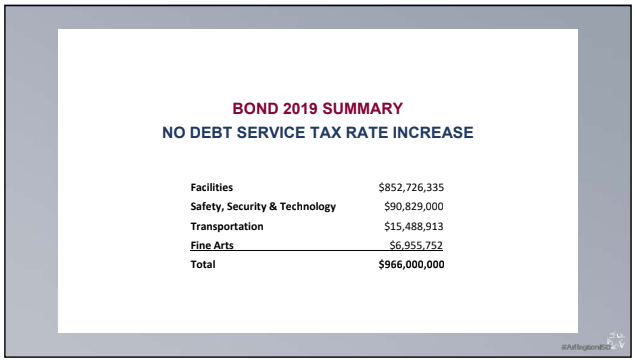 Election Results
As of Tuesday evening, after early voting and election day, the bond passed with 66.56% approval in unofficial results. More than 21,000 votes were cast.
In a message to voters on the district website, Dr. Marcelo Cavazos, superintendent, thanked voters for approving the bond.
"Thank you for your continuing commitment to our students and faculty," he said. "This bond package is designed to improve facilities, provide access and equity for all of our students and build on the progress recognized through the 2014 Bond program."