With over 30 offers, junior Jahari Rogers has his pick of college football programs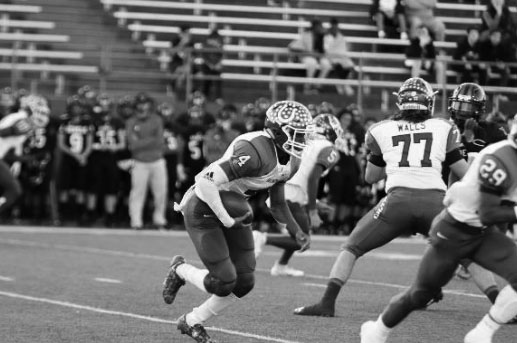 At the end of his junior year, Jahari Rogers has already secured an amazing arsenal of Division One offers to play football in college. With 31 full ride scholarships to some of the best schools in the nation, Rogers has a decision to make that most high school athletes can only dream of making. Rogers is ranked 167 in his class in the nation, and 14th in the nation in his position.
"My mother didn't get the chance to play college sports, but I'm showing her I get the chance to do it," he said. "It's about making her proud, not just her, but the whole family."
Rogers' grandfather played cornerback for OU and many of his other family members played college sports so he wants to continue the legacy.
"I play to leave a legacy for my brother and for my own kids, it's not just for me," he said. "I set goals and want to achieve them in sports and academics."
The Colt: What schools were you most excited to hear from?
Jahari Rogers: Louisiana State University, University of Texas, Oklahoma University, University of Florida.
TC: What position are they recruiting you for?
JR: Cornerback. I fell really good about playing that position. Everyone in my family played defense so it's kind of in my blood and I know the position.
TC: What factors do you think about when trying to choose a school?
JR: The education is the most important thing. After that, is playing time. Making sure I actually get to play my freshman year. Then, the coaches, just if they have a good vibe or not.
TC: What do you hope to accomplish in football during your senior year?
JR: No injuries, god willingly. Just to stay healthy the whole season. To actually play in the spring, and to WIN. Staying healthy is a big one, I want to go in fresh.
TC: What are you goals for your college seasons, or just college in general?
JR: To start as a freshman, even if it's only one game. Maybe be a freshman All American. As the years go on, win the Jim Thorpe Award, win a championship, league or national, and to graduate in three years. Everything else would be a bonus after that.
TC: How do you balance academics and football?
JR: I have a lot of people to help me. Time management and learning how to do it now so I'll be ready in college. I train when I need to. And I leave school at school and sports at sports, I don't combine the two.
Rogers plans to play for the Colts in the fall and then graduate in December to get a jump on spring ball in college.