Surprisingly nostalgic, senior realizes how special past four years have been
It's been a seemingly endless four years of high school, but that doesn't mean that I'm not a little sad to see the light at the end of the tunnel. High school is one of the most peculiar times that anyone could go through – a time of growth, stress, and drama. I think I can speak for everyone when I say that these years have brought forth a transformation in every single one of us. After all this time, freshmen year seems like it was from a different lifetime, but I couldn't be more glad to have said that I have withstood all the challenges of high school. As sickly sentimental as it sounds, even through all the ups and downs of high school, I'm thankful to have gotten the opportunity to experience it.
"
These four years have been some of the strangest times of my life, and nothing short of a hodgepodge of craziness. However, I don't think I would trade them for the world.
When I started my first day of high school way back in the summer of 2015, I had no idea what to expect. My sister had just graduated herself, and she had attempted to show me around the school and tell me how AHS works, but it was all a confusing blur to me. I was worried I wouldn't be able to adjust to high school culture, scared that I wouldn't be able to keep up with the work for ten classes, and I didn't understand why upstairs C and D hall weren't connected (still relatable). The first week was one of the most stressful times of my life (though I was about to have a lot more of them), after I couldn't find my classes, missed the bus to my archery class, and realized I couldn't have lunch with most of my friends after I was put into third period orchestra, which meant I had the upperclassmen B-lunch. I had only just turned 15- I was so young and felt like I had gone over my head and wouldn't be able to handle high school. However, little did I know, things were about to turn around. As I began to settle into high school, things got easier. I managed to attain a good mental map of the school and got into the hang of how high school works. After a few weeks, things didn't seem so bad anymore. I was starting to adjust normally to life as a high school student, and couldn't wait to spend my next four years here.
Things weren't always so simple, though, and I wasn't always prepared for everything. High school was responsible for many (if not, all) of the ups and downs of my life. Some are memories that I'll treasure forever, and some I'd maybe rather forget. Nonetheless, every sticky situation I'd gotten myself into ultimately taught me how to grow into a better person. High school doesn't always have a reputation for being enjoyable, and while at times it certainly was anything but, I've grown to appreciate my time here. Four years is a long time that allows for many mistakes, some outside of my ability to help, and some that were simply just my fault, but I'm thankful that each and everyone of the experiences allowed me to become a changed person. No, I swear I'm not just being cheesy for the sake of it- I really do value everything I've learned from high school. Looking back on the person I was my freshman year, I realize just how much I've changed, and sometimes, tough conditions are just what you need to snap yourself out of it. Sure, there are definitely some things that I would change, but ultimately, high school has prepared me for life in a way that I don't think anything else could have.
I'm 18 now, soon to be 19, and reflecting back on these years with nostalgia is something that I never thought I'd do. I guess you just don't realize how special these years are to you until you finally have to tell them goodbye. These four years have been some of the strangest times of my life, and nothing short of a hodgepodge of craziness. However, I don't think I would trade them for the world. I'm still not quite the person I want to be just yet, but my experiences have at least taught me how to be. Now, it's up to me to begin my next stage of life using what I've learned, and even though I'm thrilled to attend college, I think there's always going to be a part of me that is going to be sentimental over my time at Arlington High.
Leave a Comment
About the Writer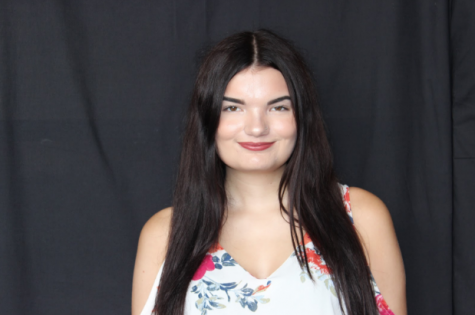 Nina Melishkevich, Editor-in-Chief
I'm a senior and this is my third year on The Colt and first year as Editor-in-Chief. I cover a little bit of everything and look forward to publishing...