Pennsylvania mayor inspired by Sanders will stand out among Washington politco
Mayor of Braddock, Pa., John Fetterman, has been inspired to run for state senate after seeing the success of presidential candidate Bernie Sander's campaign. Fetterman's political beliefs parallel those of Sanders' in regards to economic inequality, racial justice, police violence, and the war on drugs.
"When Sanders ran, that opened up a level of awareness in the state, that the issues I care about can make a viable campaign," Fetterman said in an interview with "The Nation".
Fetterman graduated from Harvard's Kennedy School of Government with a master's degree in Public Policy. From there, Fetterman went on to start a GED program in Braddock, a town ravaged by the ongoing gun violence and heroin epidemics. After two of Fetterman's students died from gun violence, he was prompted to run for mayor of the town.
In 2005, Fetterman was elected mayor, winning by a single vote. The Harvard graduate has since devoted his life to Braddock, working as mayor for only $150 a month. Fetterman's devotion to his little town is obvious. He has been re-elected for mayor twice since 2005. Since his first election, Fetterman has been credited with the creation of Braddock's community center, urban gardens, and a free store run by John's wife, Gisele.
Gisele Fetterman, a Brazil native who came to the U.S. at the age of 8, started the free store. Her store provides food, clothing, and toys for no charge to Braddock residents who can not afford the basic commodities. In addition to the Free Store, Gisele co-founded the 412 Food Rescue. The food rescue collects fresh, healthy food that is scheduled to be discarded from grocery stores and distributes it to the people of Braddock living in poverty.
While Fetterman is a white mayor in a predominantly black town, that is not why he stands out in Braddock. The man stands at 6 foot 8 inches, weighs 320 pounds, and the only hair on his head is what makes up his goatee under his chin. On his right forearm, the number 15104, Braddock's zip code, is tattooed. Fetterman's left arm is adorned with the dates of every death that has occurred in Braddock as a result of gun violence since he took office in 2005. There are a total of nine dates on his arm.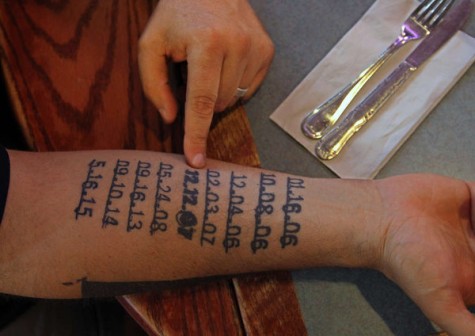 Fetterman launched his campaign for Pennsylvania senate on September 14.  He is currently in third place, but is remaining hopeful. Fetterman's campaign is largely based around the word inequality.
"As Mayor of Braddock for more than ten years, I've seen firsthand that inequality isn't just a single issue — it is THE issue," Fetterman's website reads.
Bernie Sanders has won the majority of millennial support in the presidential election primaries. While his presidency would be a feat in itself, Sanders will not be able to enact his goals as president without a supporting senate of politicians like Fetterman. In the upcoming voting season, voters are encouraged not to disregard lower levels of government when voting, but to educate themselves on all politicians on the ballot.