Lip Dub brings school together for good cause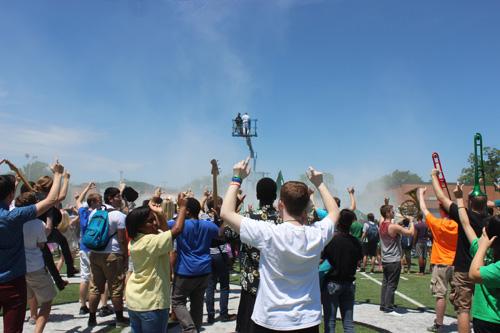 Floors littered with confetti and silly string. Sidewalks spotted with paint. A fine layer of baby powder sifting down over the football field. This was Lip Dub.
Students from a multitude of clubs and classes gathered around the school May 16 in order to make senior Shane Dawson's dream of a school wide Lip Dub, a project in the works since last November, a reality.
"I just hope that the students get a jazzy time out of this," Dawson said. "This was a great way to bring everyone together and make something great."
This charitable effort will benefit the Arlington Life Shelter, whose doors may close soon due to lack of funding. To raise money, students asked community businesses to pledge a monetary amount for each online view. This event also fulfilled AISD's Campus Improvement Plan, which aims at community service.
"This was an opportunity for students to have fun and give back," Lisa Mann, assistant principal, said. "It was truly amazing the effort everyone put into it."
The giving, however, does not stop there. At the premiere of the final cut of the Lip Dub on May 30, the price of admission was donations for the Arlington Life Shelter. T-shirts were also be sold to benefit the organization.
The mash-up of "Happy", "Safe and Sound", and "Home", directed by senior Kevin Day and performed by the school band, was combined with many dedicated lip syncers and students doing lively activities in order to leave an impression on the many potential viewers. Glitter and confetti will linger around the hallways for the rest of Arlington High's existence.
"The football field was the craziest," Dawson said. "The soccer players really got into it. There was baby powder everywhere. And, with the help of Ms. Young, we were even able to gain access to a cherry picker."
Dawson claimed that it was nearly impossible to give credit to all who helped make the Lip Dub happen. A 50 student staff worked for months planning the route, prepping songs and rallying students. Two hundred faculty members and the majority of the school body came together the day of to fill the halls, sidewalks and field.
When asked if the Lip Dub would be his high school legacy, Dawson responded simply with: "I hope so."
https://www.youtube.com/watch?v=rdJPmFfzU3M