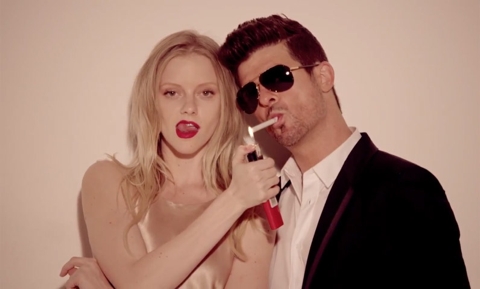 The Grammys last Sunday rang in the most viewers in almost twenty years. With staggeringly good acts by artists such as Beyonce and Lorde, the awards show definitely left an impression.
My favorite aspect of the show was not the hype, though, nor the red carpet gowns. It wasn't even Beyonce's performance, as much as it pains me to say. The best thing about the Grammys was that "Blurred Lines" did not win anything.
The Robin Thicke song was nominated for four awards, including record of the year! A song which perpetrates rape culture, whose lyrics describe the grey area of consent saying that he knows she wants it, even if she is out of it. The fact that this song even exists is a tragedy let alone the fact it was praised in such a manner. It simply shows that misogyny is still alive and well, that it is still a powerful force in today's society.
What makes the whole situation worse is that the lyrics and chorus contain sayings that actual rapists tell their victims, calling the unwilling party a "good girl" and belittling them to "animals". It also says that if a woman teases and flirts than she obviously wants sexual advances.
Story continues below advertisement
Even the music video is a vile display of sexism, with women walking around wearing practically nothing, glancing vacantly into the camera as the duo leer at them creepily. "It's just a song," some may say, but this casual remark displays a callous acceptance of the tune's degrading themes. It's too easy to remain ignorant about the true message of "Blurred Lines." This is an anthem of rape apologists- people who justify rape as a fault of the victim- and yet it was nominated for accolades as a top song of the year.
One could easily come to the conclusion that Robin Thicke is a literal piece of trash that should never be recycled. If this is you, congratulations. You are able to see that fame, riches, or even good aesthetics do not make a person likeable nor does it excuse their horrendous actions.
Hopefully, after this "devastating" loss, Robin Thicke and his posse will be old news, but they are only the most recent faces of a repugnant community and ideology. Let's not turn a blind eye.