Do you love poetry but do not know how to write it? Do you write poetry and want to get better at it? Do you draw and want your art showcased? Then you might be interested in a new program developed by the Arlington Public Library entitled "Sharing Our Voices".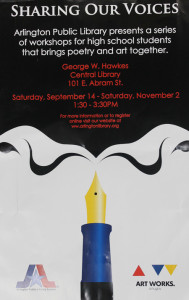 In this program you get to express your creativity through art and writing. The ultimate goal is to create an electronic book with everyone's creations that will be shown off at the Poetry Celebration on November 16.
One of the main focuses of the program is to make things with no creative restraint.
Story continues below advertisement
"I just want everyone to have a positive and creative experience," Dawn Reyes, Program Coordinator, said.
Students from all over Arlington came to the first meeting of the program to gain a better outlook on the arts.
"I want to be able to be better at writing and understanding poetry," Conor McPhee, sophomore, said.
After the first class, some students even discovered hidden talents.
"I took it because I wanted to be able to have my art showcased somewhere," Maggie Elliott, freshman, said. "I didn't really think that I would enjoy writing poetry, but now I do."
"Sharing Our Voices" is an eight week program that will meet every Saturday from 1:30-3:30 p.m. beginning September 14 and running through November 2. It will be held at the George W. Hawkes Central Library located at 101 E. Abram Street.