Record breaking number of athletes sign to play in college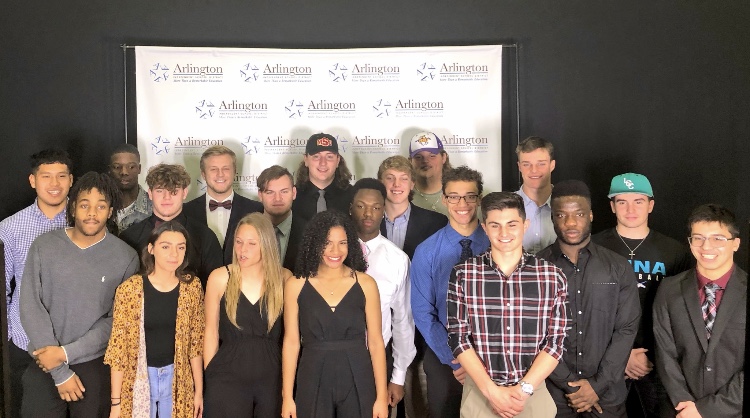 Sam Richardson, Contributing Reporter
March 8, 2019
A record breaking 21 athletes from Arlington High signed to play college sports on National Signing Day. There were 11 football players, four baseball players, two boys soccer players, two girls soccer players, one softball player, and one swimmer. This group of 21 athletes from Arlington High was the 6th largest group of signees in the Dallas-Fort Worth Metroplex, breaking the school's record.
"I am very proud that we had one of the largest signing classes in the Metroplex," Scott Peach, athletic coordinator and head football coach, said. "Our coaching staff takes great pride in creating a culture of football players who give the very best of themselves and want to play at the next level. The Colt football program has been one of the top five programs in the Metroplex over the last 10 years in college signees. We plan on keeping it moving forward."
"
It is empowering to see that many students set their goals on something and then achieve it."
— Principal Shahveer Dhalla
The most notable sector, the football team, had 11 players sign a letter of intent to play at the collegiate level. One of the team's captains, Brian Declercq, signed to play at Trinity University. Declercq was heavily recruited throughout the season for not only football, but track and field too.
"I had serious schools recruiting me, like Harvard and Yale," Declercq said. "But Trinity is close to home and it's a good opportunity to get a great degree and play football."
Declercq racked up 51 tackles and three sacks his senior season and was one of five defensive starters to sign on Signing Day. Kyron White, safety, signed to San Diego State University, Hugh Zelder, outside linebacker, signed to Wayland Baptist University, X'Zavion McDonald, linebacker, signed to Southwestern Oklahoma State University, and A'Tavion McDonald, linebacker, signed to Midwestern State University.
"It was the biggest joy getting to see them reach their dreams," coach Brian Womack said.  
Womack, an assistant varsity football and baseball coach, was in the same position as these athletes when he was a senior. Womack played four years of football and one year of baseball at Austin College.
When asked about the advice he'd give to these athletes he said, "it's a completely different game up there. It's all day, everyday. [These athletes] will have to step up to the next level."
Arlington High's baseball program was also well represented on Signing Day, as they had four players sign letters of intent. Sam Shank, the teams starting shortstop, signed with Northern Oklahoma College.
"[NOC] has a great culture and it felt like the perfect place to be," Shank said. He also "hopes to be good enough to earn a Division 1 scholarship."
Nate White, who has been on the varsity baseball squad since his sophomore year, signed with Texas A&M Corpus Christi.
"I owe all my success to my parents," White said, "my dad helps me practice any time of the day."
Dane Pfleger, pitcher/first baseman, signed with Fort Scott Community College in Fort Scott, Kansas and pitcher Ashton Hansen signed with Luna Community College in Las Vegas, New Mexico.
Both the boys and girls soccer programs were well represented at Signing Day, as each program had two players sign letters of intent to play college soccer. Corinna Parker signed with UT Tyler, where she plans to pursue Nursing and "hopefully make an impact on the team," and Kayley Dahlin signed with Southwestern Oklahoma State University. From the boys team both Prince Okegbe and Carlos Vega signed with Hill College.
"I want to get my degree and try to win a championship," Okegbe said. "I also want to score at least 15 goals and have six assists my first season."
Rounding out the long list of signees was Aaliyah Trevino for softball and Derick Miller for swimming. Trevino signed with East Texas Baptist University in Marshall, Texas, and Derick Miller capped off his record-setting senior year by signing with Rose-Hulman Institute of Technology in Terre Haute, Indiana.
"AHS has been a great school that has helped me get through hard times," Miller said, "but I plan to move forward in college and keep improving."
Principal Dr. Shahveer Dhalla voiced his praise for the group of athletes.
"It is empowering to see that many students set their goals on something and then achieve it," he said. "And for those students to be part of the COLTS Family, I couldn't be prouder."