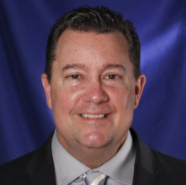 Matt Waldmann
Feeling like AHS is home, Matt Waldmann returned to the Colt Family as an AP after previous stints as a teacher and a coach.
The Colt: What university did you attend?
Matt Waldmann: I've been to three universities. At Texas Tech I got my undergraduate in secondary education with a math and P.E. teaching field along with Drivers Ed. I stayed there and got my master's in sports administration. I then taught math and coached for a long time, 25 years, and then later in my career I went back to school at Tarleton State.
TC: Have you worked at any other schools besides AHS?
MW: Ford Middle School (Allen, TX)  for a year. Gunn Junior High for five years. Martin High School off and on for 17 or 18 years. Mansfield Legacy for two years. Carrollton Newman Smith for one year. Burleson Centennial for 3 years.
TC: What did you teach before becoming an AP?
MW: I taught math and I've coached football and baseball for 25 years. Math from 7th grade, math to algebra 2, some pre AP stuff, tutoring on the side, collegiate level and SAT prep, and everything in between.
TC: Why did you choose math?
MW: I was in accounting for two years and I thought that was kind of boring but I had a good experience when I was a student; and I had some teachers who were also coaches and so I felt led in that direction.
TC: Was becoming an AP always a part of the plan?
MW: Becoming an AP was never a part of my plan. I never envisioned being an administrator. My goal was to be a head basketball coach for the rest of my career and maybe an athletics director but when I had twin girls and they were about 2½ I was on the baseball field doing maintenance work and I figured I should be home playing with them, so I sought out certification to become an administrator because coaching takes too much time.
TC: When and where were you born?
MW: Abilene, Texas. June 2,1965.
TC: Tell me about your family.
MW: I've got twin girls, their names are Carly and Sarah. They will be 7 on October 3 and they are in the 1st grade at Martha Reed Leadership Academy in Mansfield and loving every minute of it. I've got four brothers and one sister, there are six of us and we range in age from 54 down to 34.
TC: What do you do in your free time?
MW: In my free time I play golf and the guitar. I play anything competitive. I play with my girls and I hang out with my family.
TC: What did you do over the summer?
MW: I did summer school over the summer. I had a small breaking during the Fourth of July week and so I went to Abilene and visited some family there.
TC: Do you enjoy traveling? If so,where do you like to go?
MW: I love to travel however I have not been able to travel much. I would love to visit the northeast, and I would love to go overseas and visit Europe on an extended vacation for like a month or two. When I retire (hint, hint, never) I would like to spend some time overseas.
TC: Do you have any pets?
MW: Right now we have one dog, her name is Charlie, and we have one cat, her name is Katty Kitty. I like animals.
TC: Did you play any sports or were you involved with any clubs during high school or college?
MW: I played football and baseball and I was the senior class officer. I was president of FCA in college and I played football for a little bit. I was also a resident assistant in college.
TC: Do you read? If so what genres do you prefer? Favorite author? Favorite book?
MW: I do read. I like mysteries. I read John Grisham. I like some hardcore stuff like Tom Clancy. Lately it's been Dr. Seuss and you know first grade fun reading with the girls.
TC: What musicians/artist do you listen to?
MW: I'm glad you asked that, I like classic rock, country and old school hip hop. Classic rock because I think there's a lot of truth in that music. Country because I love the dance. Old school hip hop because I'm an "undercover brotha".
TC: What kind of movies do yonu like to see?
MW: I like sci fi and dramatic mysteries but lately its been Pixar and Disney.
TC: Is there anything you'd like to tell the students of AHS?
MW: I think the students of AHS should own this opportunity they have to learn and grow so they can have the kind of impact on their community that will be positive. I think they should embrace the tradition and the Colt pride that goes on here at school and try to make this experience the best they can. This is my fourth stint through AHS and it keeps calling me back so it must be home.