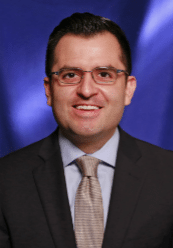 Juan Negrete
As an immigrant who moved to the U.S. when he was 15, Juan Negrete hopes to be a role model to his students.
The Colt: What university did you attend?
Juan Negrete: I went to Texas A&M Commerce for my master's.
TC: Have you worked at any other schools besides AHS?
JN: I worked at North Mesquite High School for five years and about nine months.
TC: What did you teach before becoming an AP?
JN: I taught Spanish 1, 2, 3, 4, 5 and then I also taught English 1 and 2.
TC: Why did you choose those subjects?
JN: I taught Spanish because it is my native language and then I taught English because I was helping mainly ESL students, the ones who are learning English, and so they wanted me to be there to translate things for them.
TC: Why did you decide to become an AP?
JN: I was 15 when I moved to the U.S. and I didn't see many successful immigrant assistant principals out there so I decided it was my responsibility to become a role model for the Hispanic community and all other students.
TC: When and where were you born?
JN: I was born on July 31, 1988 in Ocampo Guanajuato, that is a town in Mexico.
TC: Tell me about your family.
JN: I've been married for a long time now, almost 10 years. My wife is pregnant with a girl and she will be born in about a month, her due date is October 12. (Editor's note: Olivia Negrete was born on Oct. 3.) I have a brother and a sister, I am the youngest in the family.
TC: What do you do in your free time?
JN: I like exercising a lot, I work out everyday, and I like hanging out with my wife. I like to play video games, read, spend time with the family, travel a lot and I like to learn new languages. It's all about learning and doing something interesting.
TC: What did you do over the summer?
JN: I worked till June 29 and then had three weeks off. During those three weeks I went to Chicago to visit family and I went to some cabins in Oklahoma. I also did some projects around the house, I worked on the nursery to get ready for my daughter.
TC: Do you enjoy traveling? If so,where do you like to go or where would you like to go?
JN: I'd like to go to China, Bora Bora, Australia for sure, and parts of Mexico that I've never been to.
TC: Do you have any pets?
JN: I have two dogs. I have Luly she's a Shin-Soo and then we have Peppa.
TC: Did you play any sports or were you involved with any clubs during high school or college?
JN: I actually was a part of the cross country team and track team, and part of the Spanish Honor Society and the Honor Roll Society.
TC: Do you read? If so what type of genres do you prefer? Favorite author? Favorite book?
JN: I like nonfiction. My favorite author would be Gabriel Garcia Marquez, he's a Colombian writer. My favorite book is "Cien Anos de Soledad" which translates to "One Hundred Years of Solitude". It has a lot of history.
TC: What music/artist do you listen to?
JN: I like all kinds of music, I don't think I have a preferred, I'll listen to anything.
TC: What kind of movies do you like to see?
JN: I like romantic comedy.
TC: Is there anything you'd like to tell the students of AHS?
JN: More than anything I'd like to tell you I'm here for all students. I want them to see in me that it is possible to achieve your goals so when they look at me and when they talk to me, I want them to realize there's a role model for them that really cares for them, and my goal for them is to see that in me and for them to be successful in whatever they decide to do. I'm an immigrant. I did not speak English when I was 15 years old and now I speak three languages. Education is the key to success, education is loyal and what I mean by that is that if you put your faith in education, education will not fail you, you will succeed.