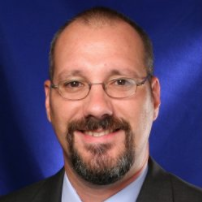 Brent Pfaff
With a strong desire to help kips solve their problems and be successful, Brent Pfaff went into teaching and then administration.
The Colt: What university did you attend?
Brent Pfaff: The University of North Texas. My parents graduated from there, Mrs.Pfaff, my wife, graduated from there, and our oldest daughter is currently an Eagle.
TC: Have you worked at any other schools besides AHS?
BP: I've worked at Ousley Junior High, Bowie Middle School in Irving, and at Boles Junior High.
TC: What did you teach before becoming an AP?
BP: I taught 8th grade U.S. history. My favorite U.S. history museum is the one in New Orleans, I recommend it to everybody, it's fabulous.
TC: Was becoming an AP always a part of the plan?
BP: Initially no, I never thought about becoming an AP. I would've laughed 25 years ago if you had said I would be an assistant principal at Arlington High School speaking to Yasmin Herrera today.
TC: Why did you decide to be an AP?
BP: I like working with the kids and helping them solve problems and earn their high school diploma and be successful.
TC: When and where were you born?
BP: I was born in Neptune, New Jersey during the 70s.
TC: Tell me about your family.
BP: I have one brother who is a year younger than me. Then I have a wife, we've been married for 22 years. Together we have two daughters and one son.
TC: What do you do in your free time?
BP: In my free time I like to watch Colt football games, Colt basketball games and Colt volleyball games. I [also] like to do yard work.
TC: What did you do over the summer?
BP: Over the summer I kind of hibernated a bit, I worked up here. In my free time I just did a couple projects around the house. It was kind of uneventful.
TC: Do you enjoy traveling? If so,where do you like to go?
BP: I do enjoy traveling. I like going to see new places. When I was a kid we used to go camping a lot, we'd mainly go to the Appalachian Mountains, things like that. A few years ago I had the opportunity to go on a cruise to the Caribbean and I absolutely loved it. I'd definitely go every opportunity I could. It was like a city on the water, they had everything – they had nice restaurants, dancing, a swimming pool, a movie theater, they even had an ice rink on the boat as well as comedians. It was really cool.
TC: Do you have any pets?
BP: I have a dog named Cleo. It's short for Cleopatra cause her eyes kinda look like Cleopatra.
TC: What high school did you go to?
BP: I attended a school in Dallas called Jesuit. That was the school Jordan Spieth went to and also last year's first place UIL Soccer team.They were also the 1989 State Basketball Champions. That's when I graduated.
TC: Did you play any sports or were you involved with any clubs during high school or college?
BP: In high school I only played basketball but when I was in junior high we played football and before that I played soccer. Early on I found out I had a lot of advantages playing basketball because I was taller than everyone else. I think the biggest [activity] that made an impact for me was a fraternity called Alpha Phi Omega. I had a lot of fun doing that, being able to hang out with friends and do fun things like being involved with parades.
TC: Do you read? If so what genres do you prefer? Favorite author? Favorite book?
BP: I like Michael Crichton.
TC: What musicians/artist do you listen to?
BP: I like 80s music because that was the best genre of music ever. I like listening to my favorite Irish rock band in the entire world, U2. I'd say that is my favorite band but I also listen to things like Van Halen, AC/DC, and country music, I like Garth Brooks.
TC: What kind of movies do you like to see?
BP: I like action-adventure and crime movies.
TC: Is there anything you'd like to tell the students of AHS?
BP: Pursue your dreams, do your best, take chances and believe in yourself.