Senior shares realization that genuine self is best self
Hang on for a minute...we're trying to find some more stories you might like.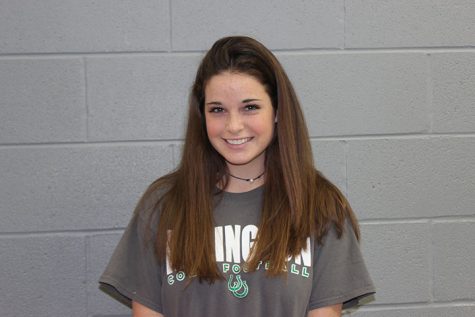 More stories from Mallory Hartley
High school, especially senior year, has been a legitimate roller coaster. One moment we win the biggest cheer competition at high school level, and the next moment two of my best friends pass away. I can't decide if senior year was the best year or the worst year for me. I do know one thing for sure: I have learned how to be my actual self and not some fictitious person I created for myself to be everyday.
Towards the beginning of high school, image was everything. What you wore, what you did, and who you hung out with meant everything to me. Image is everything to every girl in high school. Every girl wants to be seen as "popular" or "wealthy" by the people they hang out with or by the clothes and accessories they wear. As a result, I would try and act a certain way for certain people in order for them to like me. The problem with that was that it wasn't my true self. I hated having to be different around certain people, and quite frankly, it was exhausting! In the long run, none of that stuff matters. The only thing that matters is if the clothes you wear and the people you hang out with make you happy. 
"
Right now, in this point in time, I am as genuine as can be."
— Mallory Hartley
As the year went on, I experienced joys and heartbreaks. Through these experiences, I started to realize who I really am. I started to wear what I wanted to wear and hang out with the people I enjoyed hanging out with the most. I stopped pretending to be someone that I wasn't by not caring about what other people thought about me. No one's opinion matters enough to where you feel like you have to hold yourself to that opinion. Being around Tanner and Clayton helped me realize this for myself. This probably sounds like your average stereotypical teenage article that talks about "finding oneself" but there isn't any other way I could put it. When two of my best friends, Tanner McCaskey and Clayton Winkles, passed away, I heard their friends and families talk about how genuine they were. I thought about that and decided that I wanted to live my life like Tanner and Clayton. I wanted to be my genuine and real self to everyone. I wanted people to look at me as an honest and real person.
Right now, in this point in time, I am as genuine as can be. I'm living my life from day to day being myself to everyone I encounter, and it is the best change I have ever made. I'm a happier person because of it.
Now here I am. I have the best group of friends I could ever ask for. I can be myself around every single one of them. I'm extremely blessed to have them all in my life. I feel as genuine as can be and take it from me, it's the best feeling in the entire world. I wouldn't have wanted to end my senior year any other way. I'm finally ready.