Disney fan favorite returns for sequel, Banks on board
Hang on for a minute...we're trying to find some more stories you might like.
17 years ago, supermodel Tyra Banks and America's (former) sweetheart Lindsay Lohan teamed up to create a timeless cinematic masterpiece titled "Life-Size". The now iconic film, centered on a preteen (Lohan) whose mother passed away and the doll (Banks) she unintentionally brings to life, quickly earned its status as a pop culture staple after premiering on ABC and Disney Channel in 2000.
Now, 17 years later, everyone's favorite doll will be making her comeback on the silver screen in the television movie "Life-Size 2". And the best part about it? Banks will be reprising her role as the glamorous SunnyVale native Eve!
"There is no one else that can play Eve but me, thank you very much," Banks told "Variety". "I'm just joking with you, but yes, I am going to be Eve."
Tyra took to Twitter to announce the sequel, and Life-Size fans immediately went into a frenzy.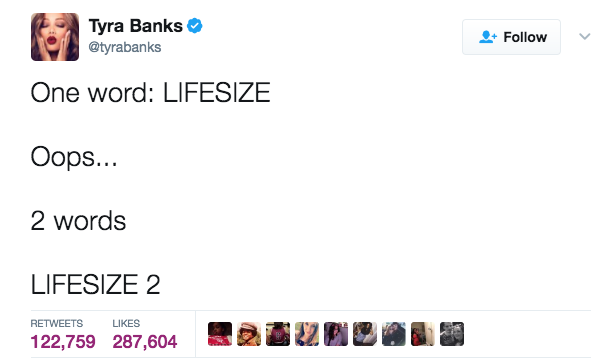 The film is set to release on Disney Channel's sister-network FreeForm, and while adults and children alike are exuberant with excitement, the question on everyones mind is whether Lindsay Lohan would be making an appearance or not. While the answer is unclear, Banks had this message for Lohan,
"
"I would love for Lindsay to do something. Like, Lindsay, the last time I saw you was, I don't know how many years ago — Every time I see her she gives me a hug like it was back in the day, like she's 10 years old again — I would love for you to come back and do something for Life-Size, will you? Will you?""
— Banks
For the sake of nostalgia, Lohan would definitely be a stellar choice to bring on board for the sequel. While the star has yet to respond, we have our fingers crossed hoping she'll bless us with her presence. Another childhood star, however, has been in talks to star in the film. Banks has mentioned 'Shake It Up' actress Zendaya on making a cameo, stating she "would love her. I think Zendaya would be really interesting."
The film will be targeted to a more mature audience according to FreeForm, and this time she's "magically awoken to help a young woman learn to live and love again," said "Variety". "Along the way, Eve herself will experience the ups and downs of real life in the telepic that's described by the network as a "fun, edgy, modern Christmas movie."
As for the release date, we'll have to wait over a year for the film.
"Can you believe we were thinking about doing it at the end of this year?!" Banks shared about the original release date goal for Life-Size 2. "I wasn't gonna fit it in between Top Model and AGT and teaching at Stanford and seeing my baby. So, we were like … Christmas 2018 will make it a better Life-Size."